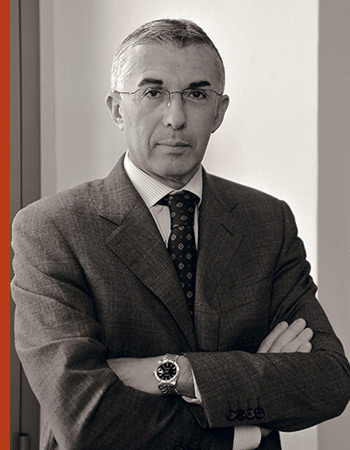 Certified Public Accountant, Certified Auditor
Partner
Degree in business economics, Università Bocconi di Milano (1985);
Italian Certified Public Accountant (Dottore Commercialista) section Monza e Brianza registered at N.435A (1988);
Registered in the Registry of Judge Consultant, for the profession Dottore Commercialista (since 1988);
Registered as Certified Auditor N.41.560 as per attachment to G.U. 21 April 1995 IV series special, N.31 bis;
Statutory Auditor (sindaco effettivo) in companies and consortiums operating in Italy and worldwide (since 1988)
Expert consultant for Monza Court in company evaluation, assets, business branches during extraordinary companies' operation procedures (since 1991)
Insolvency administrator for Monza Court (since 1991)
1 top ranked as Company Crisis Administrator (Gestore della Crisi) in the Arbitration Chamber of Milan – OCC associated with Chambers of Como, Lecco, Mantova, Monza Brianza, Pavia, Varese, total score 452;
Commission Member of the Bankruptcy Procedures CODIS Lombardia region
Member of the National working group on the revision of rules related to bankruptcy procedures and recovery of businesses (Revisione dei principi di attestazione nell'ambito dell'area Procedure concorsuali e risanamento di impresa);
Member of the Board at Certified Public Accountant Association Monza, from 2001 to 2012, with position of General Secretary from 01/01/2004 to 31/12/2012;
President of the Association of Young Chartered Public Accountants Monza (1994-1995)
Commission member of the State Exam at University Bocconi di Milano for the admission to the National Register of Certified Public Accountant (Dottore Commercialista) – sessions June and November 2003 and University' Bicocca di Milano sessions June and November 2008;
Certified Auditor (Revisore dei Conti) for the municipalized Monza transportation company A.M.S.A. for the period 1991-1996; President of the Board of Auditors for A.G.A.M. until 1999 and President of the Board of Internal Auditors (Sindaco) until 2006; from June 2010 to April 2013 President of the Board of Enerxenia S.p.a. (ACSM – AGAM group);
Certified Auditor (Revisore dei Conti) in Lombardia Region;
President of the commission ethics and code of conduct (Disciplina) in the Association of Certified Public Accountant Monza, period 2014 to 2016;
Certified Public Accountant Association National member in the internationalization Natonal commission, period 2015-2018.